MULTI-PURPOSE, ALL-ELECTRIC
The Club Car 411 is the compact all-electric vehicle designed for your campus. Ideal for logistics and cargo services, it has the agility and versatility that's essential in a campus or urban environment, filling the gap between full-sized trucks and small utility carts.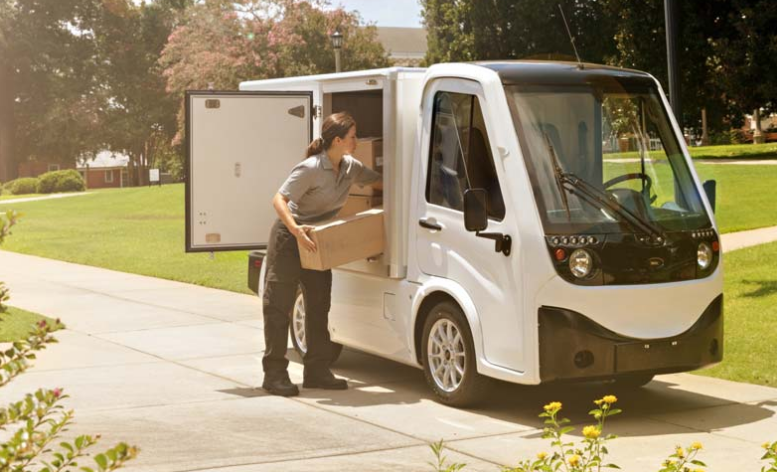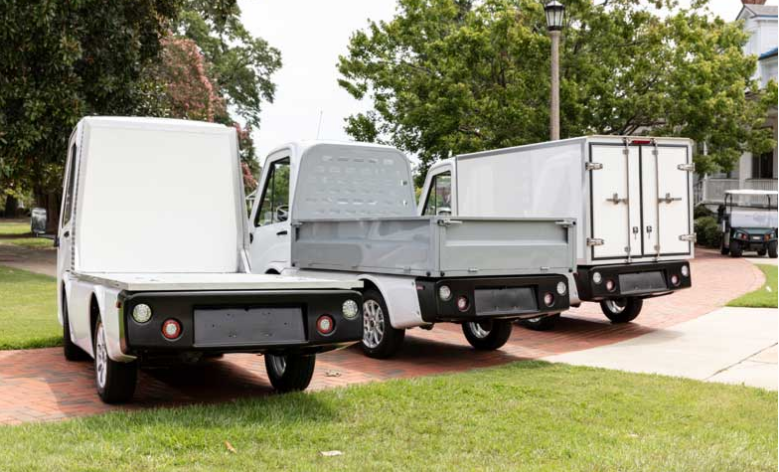 DESIGNED FOR YOUR WORK DAY
The 411 utility vehicle offers three bed options to best suit the work you need to get done. Choose from a flatbed, pickup configuration with sides, or a full van box with 123 square feet of cargo room and a half-ton payload capacity.
EQUIPPED TO HANDLE YOUR NEEDS
In addition to its cargo capacity, The 411 UTV sports numerous other features designed to get the job done efficiently and  comfortably. Power-assist steering and 4-wheel hydraulic disc brakes mean better handling and control and the standard backup camera, cabin heat and ventilation, and LCM display make it a dream to drive.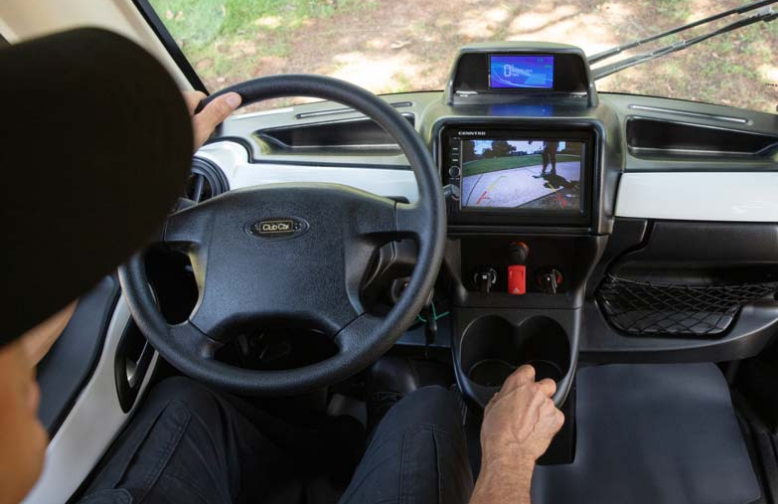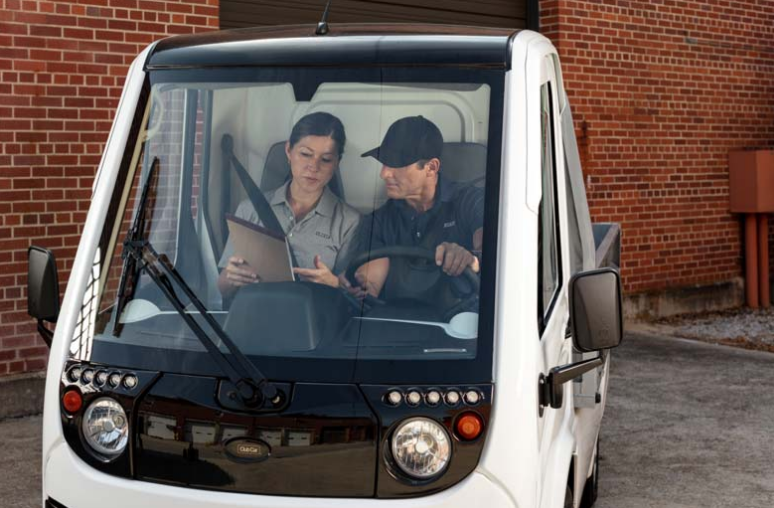 PART OF YOUR SMART FLEET
Options like a GPS locator, a vehicle management system with alerts, and geofencing mean you'll get more than just work out of your 411 UTV, you'll also get information vital to manage your fleet.

Length:146 in. / 370.8 cm / 12' 2"
Width: 55 in. / 139.7 cm / 4' 7"
Height: 75 in. / 190.5 cm / 6' 3"
Curb Weight/Flatbed: 2,039 lbs. / 924 kg
Curb Weight/Pickup: 2,090 lbs. / 948 kg
Curb Weight/Van Box: 2,200 lbs. / 997 kg
Payload Capacity : 1,100 lbs. / 498.9 kg / 1/2 ton
Top Speed: Up to 25 mph / 40 km/h
Grade: Up to 22%
Turning Radius: 157 in. / 3.9 m / 13' 1"
Acceleration: 0 – 20 mph in > 6 seconds / 0 – 32 km/h in > 6 seconds
Braking Distance: 25 ft. @ 25 mph / 7.6 m @ 40 km/h / Best in Class
Range: Up to 50 mi. / 80 km
Recharge: Up to 6-8 hours / 110V/15A
Warranty: Vehicle: 2 years*
Warranty: Batteries: 2 years*
Backup Camera: Standard
LCM Display: Standard / 7 in. / 17.7 cm
Parking Brake: Manual – Standard
Body Panels: Reinforced ABS / Corrosion-resistant
Cabin Air: Heating + Ventilation
Motor: 10 Kw
Horsepower: 13.4 HP
Motor Controller: 240A AC Controller
Drive System: 2-wheel Rear Wheel Drive
Flatbed: 47.5 in. / 120.6 cm Wide / 88 in. / 223.5 cm Length
Pickup: 25 in. / 135.8 cm Wide / 90 in. / 228.6 cm Length
Van Box: 53.5 in. / 135.8 cm Wide / 88 in. / 223.5 cm Length
Van Box Volume: 123 sq. ft. / 11.43 sq. m
Type: VRLA (120 Ah)
Voltage: 72V
Number of Batteries: 6
Capacity: 8.64 kWh
Chassis: Reinforced Steel / Coated
Suspension: Front: Transverse Leaf Spring
Rear: Horizontal Spring with Coil-over Shock
Brakes: Disc / 4-wheel, Hydraulic
Steering: Power Assist
Autres voiturettes neuves